Introduction
Our Crust
Our Ingredients
Our Ovens
WHY WE MAKE PIZZA
Passionate About Pizza Since 1925
A lot has happened since Frank Pepe starting baking "ah-beets" almost 100 years ago. Pizza has gone from an obscure ethnic dish to become a mainstay of the American dining scene. But what hasn't changed at Pepe's is the family's commitment to the tradition of food quality and commitment to the community at large that Frank Pepe envisioned in 1925.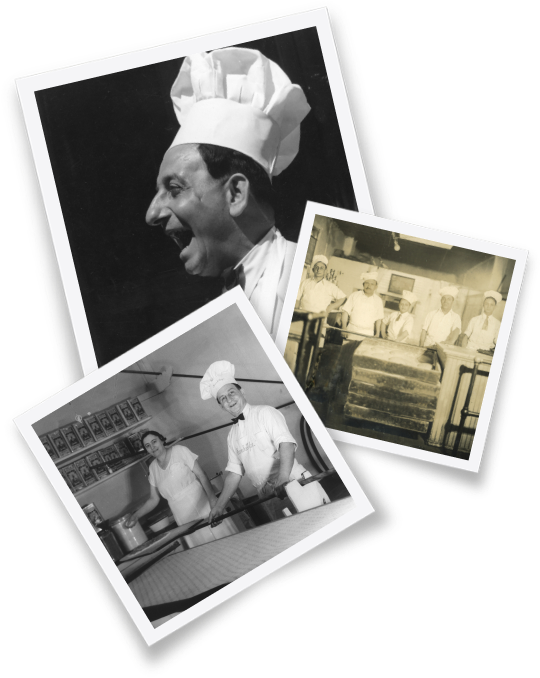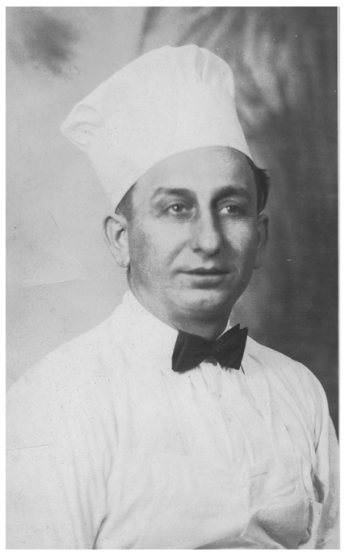 Frank Pepe was the quintessential American immigrant, with a quintessential American story. He immigrated to America as a teenager in 1909. After going back to Italy for a few years to fight in World War I, he returned to New Haven to work first in a pasta factory and then in a bakery on Wooster Street. While working at the bakery, Pepe started making his version of the classic "apizza," (pronounced A-beets) a style of pizza from his hometown of Naples. Pepe began selling his "tomato pies" off a special headdress, walking through the Wooster Square market with several pies perched atop his head. He eventually saved up enough money to buy a wagon and continued selling the increasingly popular "apizza." In June of 1925, Frank Pepe was able to take over operation of the bakery and establish "Frank Pepe Pizzeria Napoletana" on Wooster Street. The rest, as they say, was history.
Introduction
Frank Pepe was born in the foothills of Maori, Italy, not far from Naples. He came from modest means, and arrived in the United States through Ellis Island with no money or understanding of the English language, but with a desire to work hard and make a life for himself. He met and married Filomena Volpi in Maori in 1919, and together they moved to New Haven, married and raised their family.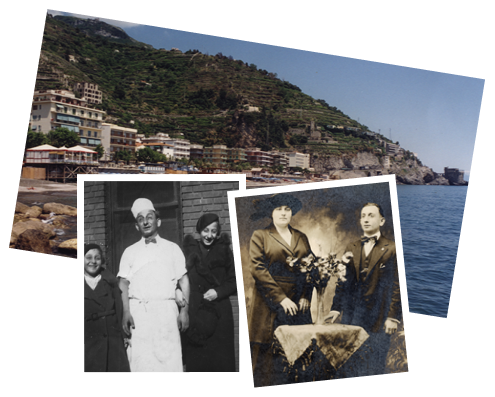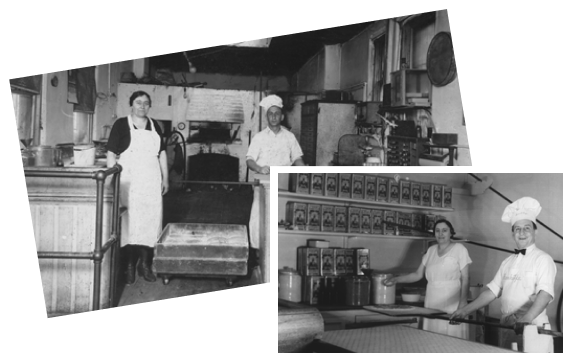 Filomena Pepe was a partner to Frank and his greatest support. Unlike her husband, Filomena could speak and write in English, so she was invaluable in establishing and growing the business as she took care of all of the administrative tasks and other things requiring such knowledge. True to his humble roots, Pepe's restaurant first sold just two types of "apizza": one with tomatoes with grated pecorino cheese, garlic, oregano, and olive oil; and a second that also had anchovy. The Original Tomato Pie is still offered today, and anchovy continues to be available as an added topping
In the formative years, 1925-1937, Frank Pepe employed a small crew of relatives that included his half-brother Alessio, Alessio's son Mac, Pepe's cousin Tommy Sicignano, and his nephews Salvatore and Tony Consiglio. After learning the pizza trade from his Uncle Frank, Salvatore opened his own shop down Wooster Street, still known today as Sally's Apizza.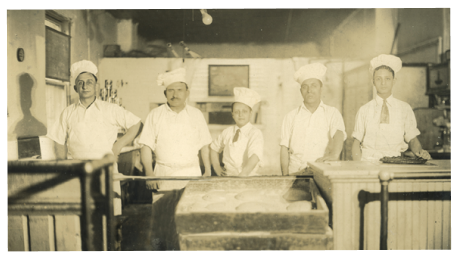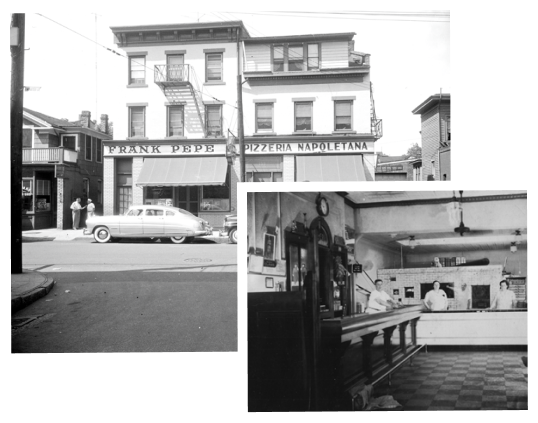 Business was good for Frank Pepe's Pizzeria Napoletana, and in 1937 Frank Pepe bought the larger building next door to his shop and moved his operation to 157 Wooster Street, what is historically understood to be the primary (though technically not original) location. The smaller, original location next door continued operating as a bakery by the Boccamiello family.
Like many small business owners of the day, Frank and Filomena lived in an apartment above the pizzeria. They had two daughters: Elizabeth and Serafina. Parents and daughters worked downstairs at the pizzeria. Active in his community, Frank Pepe became known as "Old Reliable" for his contributions to the neighborhood and for his unwavering love of his growing extended family. Having established one of the first pizzerias in the country, Frank Pepe passed away in 1969.
In the late 1970s, Elizabeth and Serafina purchased the old bakery next door from the Boccamiello family and opened it as Frank Pepe's The Spot, an annex to the main building.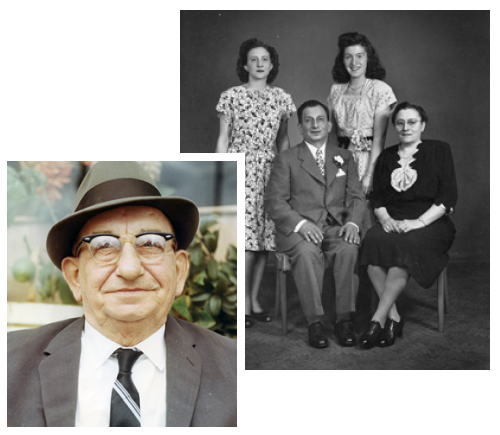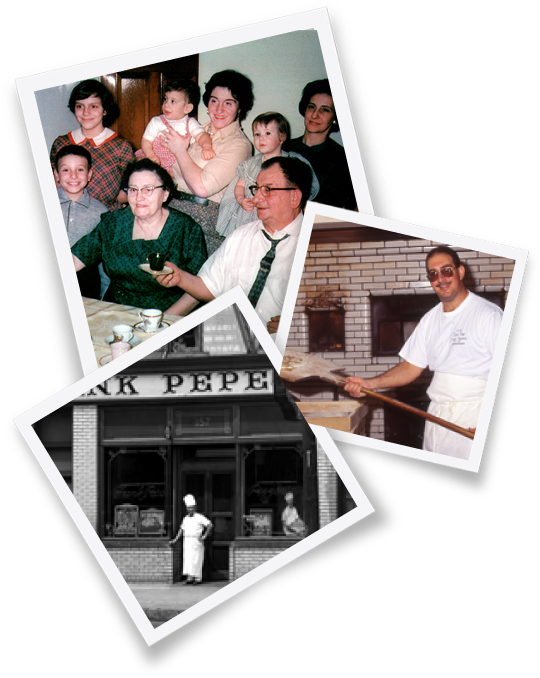 Pepe's reputation as one of the country's premier pizzerias spread far and wide, as local residents, university students, and tourists passed through New Haven. In the early 1990's, Elizabeth and Serafina Pepe retired and passed the pizza business on to their children Anthony, Francis, Lisa, Bernadette, Genevieve, Jennifer, and Gary. This generation of Pepe cousins still operates the business today and has overseen its expansion. Frank Pepe's Pizzeria Napoletana now has 16 stores in 7 states, and continues to thrive and grow.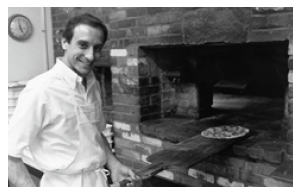 Our Crust
One of Frank Pepe's first jobs was in a bakery, and this experience helped hone his skill for the art of baking. In it's essence, pizza, or "apizza" as it is known in New Haven, is a humble meal with crust as the foundation, crushed tomatoes and very simple, fresh ingredients topping the pie. The dough that all Pepe's restaurants use is identical to the original recipe Frank Pepe created. Pepe's dough recipe is a wetter dough that takes longer to ferment acquiring a much richer flavor than ordinary pizza dough. The hot, dry air produced by the coal oven works magic on the higher water content dough, contributing to the bubbly quality of the crust—almost like a thin, crispy, airy, ciabatta-style bread. Crisp on the outside, and moist and chewy on the inside. True pizza crust bliss.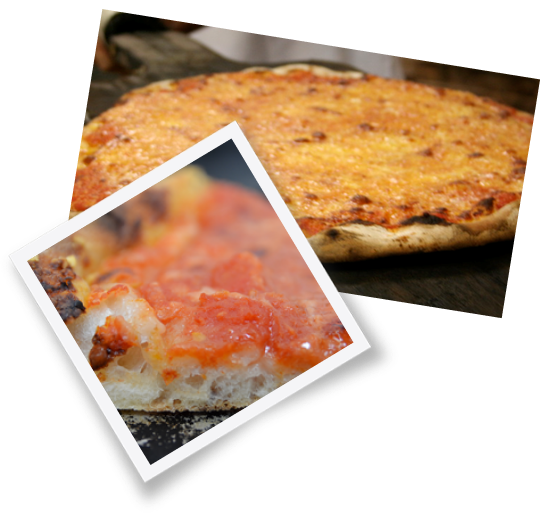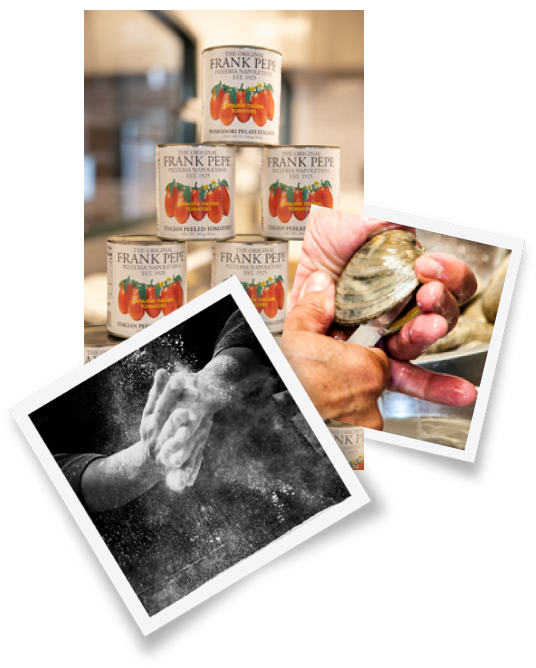 OUR INGREDIENTS
Topping a Pepe's pie are the freshest, highest quality ingredients. The tomatoes come from a hand-picked field at the foothills of Mount Vesuvius in Naples, Italy, canned and imported every year at the direction of Gary Bimonte and Francis Rosselli. Our clams for our well-known clam pizza are harvested from the Long Island Sound and the shores of Massachusetts, and are shucked every day by a long time Pepe teammate, Eric Preston. The pecorino cheese, which adds the beautiful, salty finishing flavor to a Pepe's pie, is hand selected by the best producers from Sardinia, Italy, the birthplace of pecorino cheese. Our olive oil and cheese are made specifically for Pepe's, using recipes and processes that work best in the higher heat, dryer baking environment produced by our coal-fired brick ovens. At Pepe's we take painstaking care to make sure all of the ingredients topping our pizza pies are the very best.
OUR OVENS
A key to the Pepe's pie is the chemistry produced by the dry heat made by our custom 14 feet by 14 feet, 100,000 pound brick oven combined with our wetter, longer fermenting dough. Pepe's ovens are not your typical pizza oven – they are in fact a bread oven. At each of our stores we custom make a replica of the original Wooster Street oven, with every detail covered. We even re-use the mold that was first created in construction of the original caste iron doors for the oven mouth and coal chambers.
At Pepe's we are proud of and passionate for the artisanal tradition of attempting to perfect the baking of mouth-watering pizza. Each and every day we try to get better at our craft!